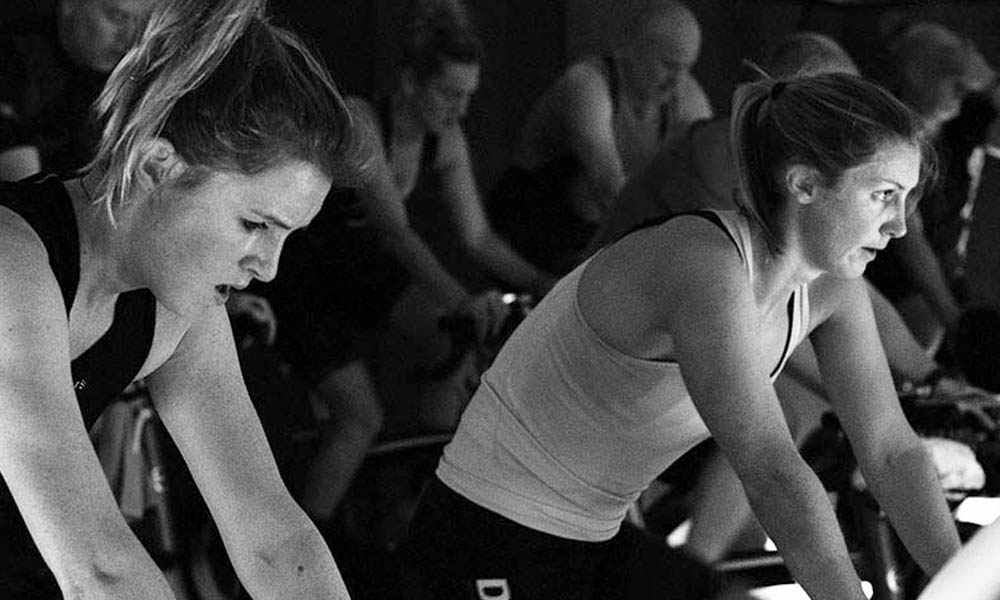 04 May

How Many Times a Week Should You Be Spinning?

You've come to the right place if you aren't familiar with spin classes. Spinning is excellent for people looking to commence their fitness journey, those who have had some time away from sports due to inactivity or injury, or those looking for a new way to challenge themselves.

Spin classes are popping up in fitness clubs and dedicated spin gyms – like ours. Their popularity is because they offer a great way to get fit and healthy and give access to a broad cross-section of society looking to improve their health.

One of the best aspects of spinning is that you'll find a social and inclusive group of people with common fitness goals where you can challenge yourself at your pace but with a group of people at different fitness and ability levels.

If you've never taken a class before, don't worry. By the end of this article, you'll have all the information you need to understand spinning, why it's good for you and how often you should take classes to get the best results.
What is a Spin Class?
A spin class is a dedicated class that uses a stationary bicycle. Classes are usually in groups where participants face the instructor, who leads the group through various types of strength and cardio training for a predetermined amount of time.
For over three decades, spin classes have moved from a new exercise 'fad' to a legitimate form of exercise supported by the sports science and health and fitness community.
As classes offer a combination of strength and cardio training, participants can combine the two types of exercise in one class, giving participants a much more effective and rapid way to achieve their fitness goals.
Spin classes have added benefits, including improved mental well-being and social and community-building. After the last few years of isolation from the world, group classes have created an opportunity for people to reconnect with one another and continue to gain in popularity. What better way to do that than via a healthy fitness activity, like spinning?
How Often Should You Take Spin Classes?
It's important to remember that not everyone will be at the same level, so the question is not as straightforward as you might think.
Those at a certain fitness level may be able to commit to more classes per week than someone just starting. For newbies, or people getting back into fitness, it's important to go easy and build up your strength and endurance to a point where you feel comfortable to take on more.
As a general rule, though, we recommend taking classes up to three times per week. That's the sweet spot where you will likely gain the most benefit. Sports scientists have suggested that the chances of fatigue are greater by doing daily spin classes.
Remember that slow and steady wins the race if you're new! You don't want to injure yourself in a spin class for the first time. And you don't need to increase the frequency, but you can always increase the intensity during classes as your strength builds up.
Health Benefits – Cardio vs Strength
Taking spin classes offers the best of both worlds regarding building strength and cardio fitness, but knowing why you should train in moderation is essential to get the most benefit.
Cardio
Cycling is a great cardio exercise as it strengthens your heart and lungs. You pump blood through your body to increase your oxygen levels and lung capacity, and you will notice that your level of fitness and endurance to the exercise you are doing will increase over time.
Not only will you feel better from a spin class, but you'll also start to see changes on the outside as you'll be burning calories through the class and afterwards.
Cardio exercise improves your heart health, minimising the risk of heart disease and lowering other risks like high blood pressure and diabetes. Cardio exercise in your weekly training schedule will improve your aerobic fitness, and your health will improve over time. It is important to note that cardio and a healthy diet maximise your chances of achieving improved health and well-being.
Strength
Spin classes give you a total body workout that covers all the major muscle groups. You'll have a solid all-around strength from taking a spin class, but that depends on how much effort you put into your fitness.
It's easy to see that you'll get the best of both worlds regarding cardio and strength, but it's all about balance. When trying to find the sweet spot with your fitness, it's best to listen to the experts so they can guide you towards a level of fitness that allows you to condition your body and challenges you as your fitness levels increase.
Why Choose the Cycle Collective?
Since 2014, our Cycle Collective spin studio in Richmond, Melbourne, has strived to provide world-class, science-based spin classes and spin class instructor training.
Cycle Collective is for everyone, people wanting to get into cycling, recreational riders, crit riders, triathletes, and cross-training for people who just want to improve their fitness.
State-of-the-art technology, combined with accurate equipment, gives you stats to your phone to track your progress.
Highly experienced coaches.
Cafes and restaurants 2 mins from the studio
Easy parking and accessibility.
We have more than 17 classes a week – View the timetable
You will find a class, teacher and studio to match your needs.
If you're considering taking a spin class and want to see how you can improve your fitness, come into our Richmond Studio and see why more people are choosing to spin.
Our trusted and highly qualified spin class instructors and world-class facilities will help you achieve the results you're looking for, and it's a great community of people who are all working towards similar goals.
For more information, contact us via phone today at 03 9996 1757 or send your inquiry via email by filling in our online contact form, and one of our representatives will respond promptly.