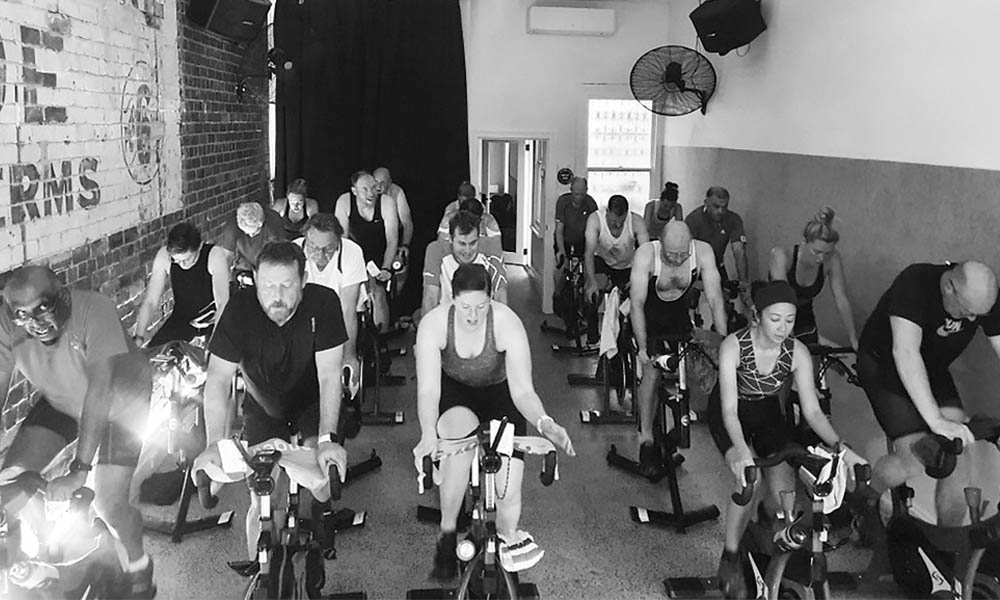 26 Jan

Spin Bike Workout Program for Beginners

Are you considering spinning this year? Spin classes and stationary bikes are a great way to be active while keeping your overall impact to a minimum and developing a baseline level of cardiovascular fitness.

If you've never trained before or it's been a while since you've done any vigorous exercise, then taking a spin class is a perfect way to get started and build up your strength and fitness levels.

Spin bikes aren't a new phenomenon, though. They have been around for a while in gyms and fitness clubs. However, in recent years, spinning is going through another renaissance, with people of all different ages, fitness levels and body types realising the benefits of staying fit and healthy through regular exercise.

Spin bikes don't need to be a solo type of exercise, either. Group spin classes are more than just fitness. It allows people to interact with others, working towards a common goal.

So if you're a beginner looking to get on a spin bike, this read will be perfect. We'll talk about spin biking and share some great workout ideas to help you improve your cardiovascular fitness through riding a spin bike.
Spin Workout Programs for Beginners
It's important to remember if you're new to fitness or if it's been a while since you've done any physical activity to go easy. Slow and steady wins the race! You don't want to injure yourself in a spin class for the first time.
Start with 25-30 minutes as your baseline workout time and gradually build up the time. Each time you feel comfortable with your workout, extend the workout by a minute or increase resistance. You'll see that your physical fitness will increase over time.
A sample workout program for a beginner might look something like this:
Start pedalling at a low intensity for 5-10 minutes. Switch to medium intensity for 5 minutes, followed by:
high intensity for 1-2 minutes,
medium intensity for 5 minutes,
high intensity for 1-2 minutes,
and medium intensity for 5 minutes.
This workout helps you achieve the minimum daily recommended amount of exercise, which you can build on once you feel comfortable.
Benefits of a Spin Workout Program for Beginners
Having a workout program for a beginner is always a good place to start because if you've never done any type of fitness like this before, it can be a challenge to know where to start.
A workout program helps you to familiarise yourself with why you are exercising and the specific benefits of a spin class. To be more specific, let's look at how you and your body will benefit from a program and, more broadly, regular spin classes.
Cardio
Cycling is great for cardiovascular fitness and works to strengthen your heart, lungs and muscles. When your body performs "cardio" exercise, it also helps to pump blood through the body and increase oxygen.
Because you're performing cardio exercise in a spin class, over time, you will likely notice improvements in the following areas:
Improved memory and brain functioning
Lower blood pressure
Better sleep
Improved blood sugar levels
Better immune system
Increased mood levels
Lower stress levels
Increased energy levels
Fat Burn
Due to the nature of indoor cycling, your chances of burning fat will be much greater than other types of exercise, but what's important to remember is that a balanced diet combined with regular exercise will increase your fat-burning and weight loss. Exercise is only a part of a well-balanced health routine.
Low Impact
As a beginner, a stationary bike is a great, low-impact workout to build strength in the body and minimise pressure – especially if you have joint or pain issues.
You will feel much less stress on your ankles, knees, hips, and other joints than running or high-impact exercises.
Interval Training
Interval training is great for those starting their fitness journey and helps with other fitness elements, like strengthening your heart and helping burn calories for longer periods throughout the day. You can also burn more calories while exercising for less time, so it's perfect for those on the run or who don't want to spend all day at the gym.
Safety
Spin class workouts are safe and free from the outside elements if you're beginning your exercise journey. It allows you to concentrate on things like your technique without concerning yourself with the weather and other distractions.
And because you are stationary, you minimise the risk of falling off the bike, while you can focus on increasing building muscle, losing weight and gaining confidence on the bike well before you decide to take to the outdoors for a ride.
If you haven't exercised or are on any medication, you should always speak to your health professional to get the green light before exercising.
Why Choose the Cycle Collective?
Since 2014, our Cycle Collective spin studio in Richmond, Melbourne, has strived to provide world-class, science-based spin classes and spin class instructor training.
Cycle Collective is for everyone, people wanting to get into cycling, recreational riders, crit riders, triathletes, and cross-training for people who just want to improve their fitness.
State-of-the-art technology, combined with accurate equipment, gives you stats to your phone to track your progress.
Highly experienced coaches.
Cafes and restaurants 2 mins from the studio
Easy parking and accessibility.
We have more than 17 classes a week – View the timetable
You will find a class, teacher and studio to match your needs.
If you're considering taking a spin class and want to see how you can improve your fitness, come into our Richmond Studio and see why more people are choosing to spin.
Our trusted and highly qualified spin class instructors and world-class facilities will help you achieve the results you're looking for, and it's a great community of people who are all working towards similar goals.
For more information, contact us via phone today at 03 9996 1757 or send your inquiry via email by filling in our online contact form, and one of our representatives will respond promptly.