Adam Pearson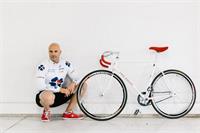 Adam Pearson instructs the following:
A great class for everyone. A high energy session with mixed efforts using cadence and load. The class all riders need.




Intervals, Steady state and hills all in one for good all round fitness on your bike.




Power and Speed - classic HIIT session, lots of big efforts combined with recovery time. High energy at its best.





To do this class you need to buy a single Enduro credit $35 or be part of a pre-sold package.

75 minutes with an endurance zone focus. Perfect for any outdoor riders who are training for an endurance event or for those who love a physical and mental challenge.